Coco, the fish with hands by Aleesah Darlison. Illus. by Mel Matthews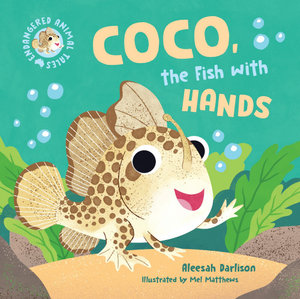 Coco, the Fish with Hands is the first story in the multi-book Endangered Animal Tales series which will focus on a number of Australia's most susceptible creatures. The story begins by introducing Coco and her amazing attribute - hands. Spotted Handfish are only found in Tasmania and are becoming extinct. The story continues with Coco evading predators, searching for a mate and finding a safe place to lay her eggs. Once the eggs are laid the parents spend time protecting them until they hatch and disperse into the Derwent River Estuary, the only place Spotted Handfish are found. The story is further enhanced by the bright and colourful illustrations as well as a key fact written on each page. On the final page is a map of Australia with more important facts to share.
This is a perfect book for sharing with children. Early Years teachers and students could use this book as a resource for writing an information report as it clearly gives simple facts about features, diet, habitat, predators as well as other information. A very welcome addition to a school or public library. The other books in the series will be well worth reading.
Themes: Endangered animals, Australia, Spotted handfish, Factual fiction.
Kathryn Beilby