Chain of iron by Cassandra Clare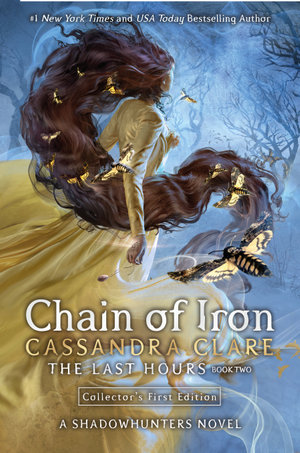 Chain of iron follows directly on from Chain of gold and sees Cordelia Carstairs engaged to James Herondale. She is secretly in love with him, but their marriage is a sham: James is in love with Grace Blackthorn and the pair agree to divorce after a year. Meanwhile there is a serial killer on the loose in London and the Merry Thieves, James' gang of friends, are on a desperate quest to find who is killing their fellow Shadowhunters.
Although Chain of iron is another large tome of 592 pages, Clare's flowing prose and exciting tension make it an easy read, especially for fans who are comfortable with her characters and setting. After reading Chain of gold and Tess and Will's adventures in The infernal devices it was easy to settle into reading another familiar adventure fantasy, set in Edwardian England and full of twists and turns and danger. Cordelia's quest to settle the strangeness of Cortana, her beloved sword, brings some surprises, while James is still battling with the darkness that is his grandfather.
Fans will be happy to learn more about Matthew and the dark secret that he harbours, and Grace Blackthorn, although an unlikeable character, has moments when the reader is sympathetic with her life. Lucie's attempts to bring the ghost Jesse Blackthorn back to life bring another strong plotline to keep the reader engaged. And of course, Clare is an expert at writing romance and descriptions of Anna and Adrienne's romance and Cordelia and James' feelings for each other ramp up a notch.
And that cliff-hanger ending will have readers begging for the next book.
Themes: Fantasy, Romance, Demons.
Pat Pledger