Bush magic by Kylie Howarth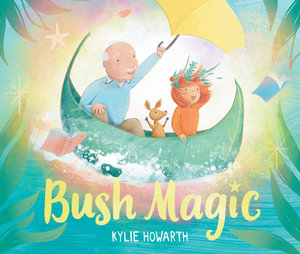 One special day, Jarrah spends with Grandpa having adventures in the bush. But today, their special day, it is raining so much that they cannot go outside. Instead their imaginations soar as they have an adventure like no other, sailing away on a boat conjured out of leaves, a crown on Jarrah's head, looking out for animals stranded by the flood. With her special words 'Ziggety Zoo kangaroo', she helps the animals climb the rocky island, then uses umbrellas to sail down into the water below, searching for the blocked drain causing the water to rise. Expecting to find a hole to unblock, Jarrah finds a reptile like animal sleeping and blocking the hole. She tickles it with a reed from her crowns and when he wakes the water sloshes like a whirlpool down the hole, and the animal which she calls Frilly, happily takes all the animals back to their home.
What an adventure. Eager eyes will seek out the things on the floor which gave rise to the bush adventure undertaken by Jarrah and her grandfather. And everyone has a well deserved nap.
The collage like illustrations have layers of intrigue and interest for young children. The intense detail invites young eyes to seek out the animals stranded on the rock, the detail beneath the sea, the toys in the lounge room. The soft illustrations reinforce Jarrah's loving relationship with her grandfather, a touching focus of the story. More about Kylie's work can be found here.
Kylie has art sessions in her backyard with her two young children and it is this work that finds itself in her illustrations. Often she uses her children's art as inspiration for her own.
Themes: Australian animals, Adventure, Imagination, Grandfathers, Art.
Fran Knight