Britannica's 5 minute really true stories for family time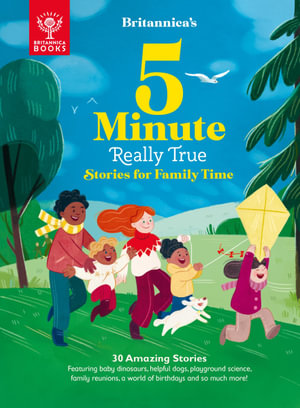 Britannica's 5 Minute Really True Stories for Family Time was written in response to Covid lockdowns, and the amount of time families were spending together. It is a compendium of true stories that take approximately five minutes to read and is a companion to Britannica's 5 Minute Really True Stories for Bedtime. In this latest publication there are 30 stories covering families, both human and from the animal world and how they go about their daily lives. The varied and diverse topics listed on the contents page include such things as homes, celebrations, pedal power, saying goodbye, dinosaurs, the great outdoors, creepy crawly hideaways and playgrounds. Within each six-page spread there are brightly coloured illustrations to complement the clearly presented text as well as labelled diagrams and step by step instructions where applicable. Each topic presents a snapshot from places all over the world: for example, the food bought in the market in Barcelona may be very different to what is bought from a market in Ecuador. The story about 'Getting Married' gives information about weddings in India, Japan, Germany, Peru, the Philippines and Australia. Interestingly it states that in Australia wedding guests bring small stones to place in a bowl called the unity bowl for the married couple to take home to remember those who attended their wedding. Other Australian mentions include Coober Pedy, koalas and the Magnetic termite.
This would be an interesting book for those children who enjoy non-fiction and learning something new or as a shared read aloud for an adult and child.
Themes: Families, Short Stories, Animals, Facts, Diversity.
Kathryn Beilby