Brave the storm by Anh Do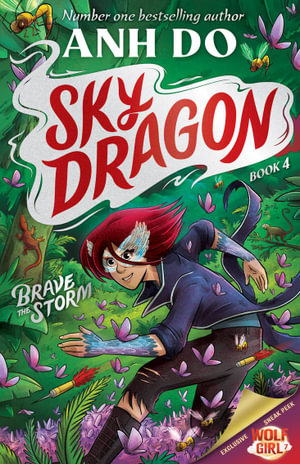 Skydragon: Brave the Storm written by Anh Do is the fourth book in this series for middle grade or older reluctant readers with graphic images by James Hart that add to the appeal. The latest adventure begins with Amber and her beloved carer Irene travelling in a campervan to escape the city and Amber's ever-growing number of evil nemeses. Amber has concussion and has lost her power to attract insects. Irene suggests that they travel to Sennam in Asia to be free of danger and to help Amber heal and reconnect with her power. Needless to say, danger is not far away and stumbling upon a closed trail while on a rainforest hike, leads Irene and Amber into trouble with Indigenous peoples of the area and dangerous mercenaries. Amber is captured by a local girl Lin whose grandfather Khan is the Chief. He and his people are constantly trying to outwit the squad of EverCorp mercenaries who are destroying the rainforest while searching for rumoured lilac diamonds. Lin, who will inherit Khan's chieftain role, suspects Amber is working for EverCorp and the girls get off to a rather unfriendly start. Both girls join forces to protect the diamonds and rescue Khan who has been forced to take the mercenaries to where the diamonds are. After outwitting EverCorp through sheer determination and skill, Lin and Amber, with her power restored, saves the diamonds but sadly, Khan has passed away. Running parallel to this story is Firefighter's own search for his true identity and Amber's belief that he may be her brother. Agent Ferris also plays an evil role in this story and is suspicious of Amber's whereabouts however he has more pressing things to deal with when he is informed that Firefighter is missing. More will be revealed in Book 5 which is coming soon!
Themes: Insects, Rainforests, Asia, Fantasy, Conflict, Danger, Mystery, Evil.
Kathryn Beilby