Boss of your own body by Byll and Beth Stephen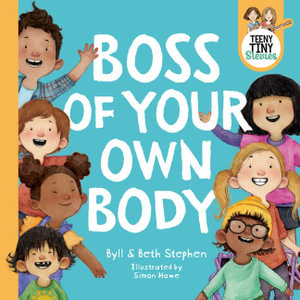 The popular ABC TV musical stars Teeny Tiny Stevies are featured in the Boss of Your Own Body book. This book is a spin-off from one of the many YouTube videos accessible online and reinforces the concept of young children being aware of their own responsibilities and personal choices. The book encourages children to remember that they are not the boss of others, only themselves. The flow of the text was confusing at first but after listening to the song 'Boss of My Own Body' on YouTube and exploring the website, it was easier to grasp the meaning behind the book. Familiar scenarios such as supermarket shopping, bedtime, choosing television programs, playing with friends both at home and at school are given consideration. It is also emphasised that sometimes known and safe adults may need to help in situations. The busy and colourful illustrations with diverse characters will add to the appeal of this book and when shared in conjunction with the website and videos will be of value to Early Years students.
For more information visit www.teenytinystevies.com. The official animation can be found here.
Themes: Bodies, Consent, Young Children, Social Skills, Relationships, Well-being, Decision-making.
Kathryn Beilby