Boris goes berserk by Robert Favretto and Janice Bowles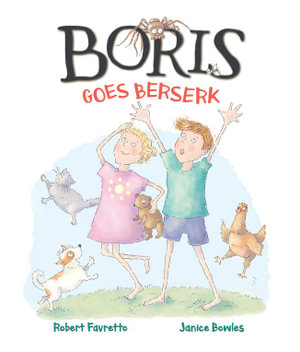 Boris is your basic Huntsman spider big, hairy and scary and when he enters the family home, his presence creates chaos on a major scale.
When Dad returns from work, Boris immediately gets inside Dad's clothing, causing Dad to strip down to his underpants. In a comical pursuit around the home, Dad tries to capture the elusive Boris by using the vacuum cleaner … but Dad's plan to remove Boris does not work out well.
The whole story is told in rhyme and the illustrations by Janice Bowles highlight the slapstick style scenes of Dad pursuing Boris the spider around the lounge room.
Younger children will love the fact that Dad is in his underpants for most of the story.
The ending works out well for the spider and the children are the eventual problem solvers in the story. They deal with the spider issue in a much calmer way than their father.
This book is suitable for junior primary students and would be a fun read aloud in the classroom.
Themes: Spiders.
Jane Moore