Bluey: Easter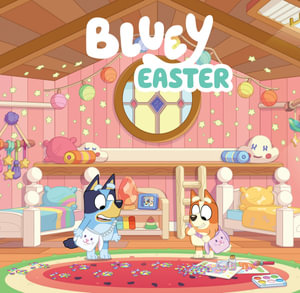 Bluey: Easter is a colourful and appealing spin - off book from the award-winning and popular preschool show about Bluey, a blue heeler pup, and her family which airs on ABC KIDS. In this story Bluey and Bingo are waiting for Easter Bunny but worried they will be forgotten as they were last year. Their parents adamantly tell them Easter Bunny will deliver some eggs but Bingo is not convinced. On waking Easter morning there are no eggs inside their Easter pouches but there is a box and a letter. This leads Bluey and Bingo on a very long and at times frustrating hunt for clues that need to be solved in order to move on to the next step to find their Easter treats.
Children who love Bluey will enjoy this story as they will be hoping Bluey and Bingo are rewarded for their effort in solving some quite tricky clues.
Themes: Easter, Bluey, Bingo, Egg Hunt, Family.
Kathryn Beilby