Bluey : Christmas swim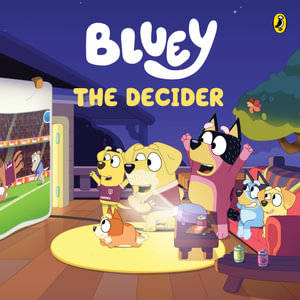 Another delightful book featuring the familiar TV characters will be a welcome addition to Christmas stockings. Beginning readers and listeners will be familiar with the scenarios portrayed in Bluey Christmas swim. The family gathers at Muffin and Socks' house to unwrap presents, and Bluey gets a little brown heeler toy that she calls Bartlebee. Then the family celebrates Christmas with a Christmas swim and Bartlebee has to come to grips with Bluey's family. She is splashed, dropped in the pool and roughly dried by Nana, as well as being snapped at by a crocodile, but it is all Christmas fun for Bluey's family.
The hard covers and thick pages will stand up to much use from toddlers who love this series. The pictures are very cute and will be appreciated by little children who love the show and there are some funny asides for the adult reader to chuckle at. Children will also enjoy comparing this typical Christmas, with its bright sunshine, swimming, barbeque, and party hats with others portraying snow and ice. 
Bluey Christmas swim would be a great gift for a Bluey fan.
Themes: Christmas, Swimming, Toys.
Pat Pledger