Blood trail by Tony Park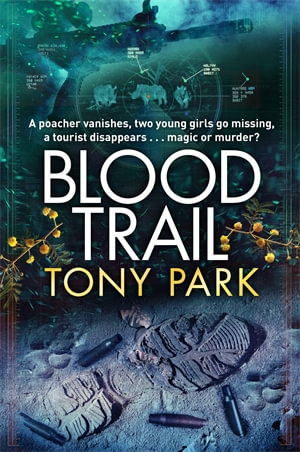 A gripping story about poachers, missing young girls and magic.
Mia is working on redoing her master tracker assessment, but her confidence is wavering when she is unable to locate a poacher who seems to have just disappeared. The poachers seem to be getting bolder and appear to know where the rhinos are. Mia and Bongani are starting to think that it might be someone on the inside feeding the poachers the information they need. As the story goes on the plot continues to thicken, drawing you in to try and work out who is involved and how they are doing it.
At the same time Captain Sannie van Rensburg is investigating the disappearance of two young girls who locals believe have been taken for sinister purposes.
The poachers appear to be using strong traditional medicine which appears to make them disappear.
The author starts the story giving the reader some information on some of the characters, as the story goes on the characters slowly become more intertwined until the climax and the mystery where Mia and Sannie have to work together to finally solve the mysteries.
This book gives the reader an idea of the horrible things that poachers do to get what they want, and the hard work put in by the dedicated people trying to stop the poachers and protect the endangered animals.
I highly recommend this book.
Themes: Game reserves, Tracking, Folk medicine, Witchcraft, South Africa, Missing persons.
Karen Colliver