Birds of a feather by Tricia Stringer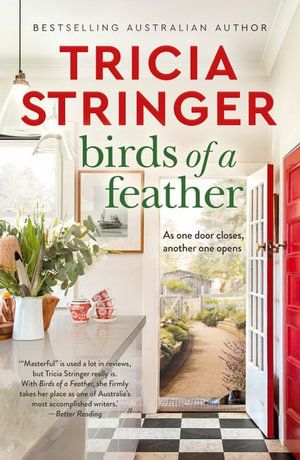 The three main characters in this book are so unalike that you would never think they could end up supporting each other as they do, and building the friendship that ends up forming through the book. The way Eve, Julia and Lucy are introduced though their individual stories and then slowly woven together shows the great storytelling ability of the author.
Eve has been involved with the prawn industry in Wallaby Bay for as long as she can remember, and has been living in the past for a long time. Her goddaughter Julia works in Melbourne in research, and has issues with work and her relationship that she is not ready to face. Lucy is the wife of a FIFO worker struggling with family life when her husband is away. These three women are thrown together in the most incredible way.
This is a great story. Three unlikely characters drawn together by unusual circumstances, each believing they don't need anyone but themselves. As the relationship between the three women grows their need for each other also grows. This unlikely friendship helps all three women to start looking forward at the future rather than living in the past.
The hardest thing for Eve was to accept that she needed help. Julia and Lucy both needed someone to confide in but neither of them realised the importance of sharing their problems. All three needed to learn to let go of the past and look to the future. Help can come from the most unlikely places and when Eve lets her stubbornness go a little she was able to see what a difference a new friendship can make in her life. Julia and Lucy both realise that opening up and talking about things can help to reduce the burden. The way we each deal with life's challenges is what makes us who we are.
The powerful way this book is written made me feel like I knew the characters and had a personal connection to them. I had trouble putting this book down; I wanted to know what was going to happen next. The story kept me hooked right to the very end.
I highly recommend this book.
Themes: Families, Friendship, Life change.
Karen Colliver