Billie and the blue bike by Ambelin Kwaymullina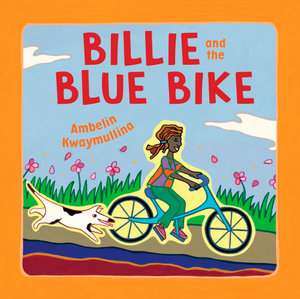 Ambelin Kwaymullina, the award winning author shortlisted for her books by the CBCA and the Queensland Premier's Literary Prize, is a Palyku woman from the Pilbara region of Western Australia. Her latest book, Billie and the blue bike, is a First Nations picture book which is up front in its aim to teach younger readers some basic financial literacy.  On reading this excellent story, it can be used for all kids, teaching them some home truths about the value of money.
Billie is desperate to buy a new bike, but is told by her mum that all the money she has is taken up with necessities. Her uncle tells that he she can help in the garden with him, earning $10 a week to save for the bike. But she wants it now, so comes up with a few schemes of her own to get the money more quickly. Each scheme is followed through showing the reader that each idea has its flaws, and the story finishes with Billie buying her bike after working for her uncle for ten weeks. I really like the way each scheme is shown with a balance sheet of the money earned. In this way readers can see exactly what work is required to earn that amount of money. Each time Billie earns some money there is a funny corollary. When she enlists the help of her cousins, she find that the money earned is not nearly enough, and when they all decide to buy an ice cream, the money disappears. Entering her dog in a competition seems fine, but when he chases the cat and upsets the judges, the outcome is not what Billie had hoped. So in the end she takes up her uncle's offer, learning that a slow and steady task means money comes in every week until the amount she is aiming for is saved.
A valuable lesson for all readers, and will lead to much discussion.
Ambelin's illustrations are full of colour, movement and heightened interest as the readers follow Billie's escapades in getting her bike.
Themes: Saving, Financial literacy, Aboriginal themes, Money.
Fran Knight