Beyond the stage by Anna Goldsworthy and Mark Carroll (Editors)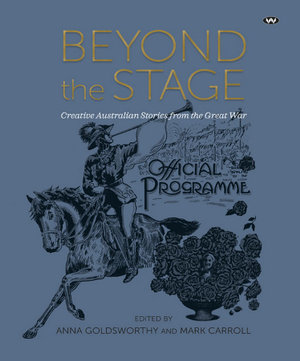 Subtitled Creative Australian stories from the Great War this book brings together essays with the common thread of the impact of World War 1, both on music and performing arts at the time, and also afterwards in how we remember or memorialise the war. The book is a result of a project bringing together four of South Australia's performing arts organisations, the Adelaide Symphony Orchestra, State Theatre Company of South Australia, State Opera of South Australia, and the Adelaide Festival Theatre. The essays vary in their themes and are accompanied by images and archival records, making for a very attractive glossy hardcover book.
Subjects range from the fundraising performances by women on the homefront, to the work of composer Edgar Tattersall, to the incredible meeting of British acting icon Sir Laurence Olivier and Australian comedian Roy 'Mo' Rene. There is also the confronting story of the persecution of Elder Conservatorium conductor Hermann Heinicke in a wave of anti-German xenophobia.
The last essay 'Aftermaths' by Bruce Scales examines how we mythologise the Diggers in our Anzac memorials, and how the Villers-Bretonneux memorial, for example, has become almost a computer game immersive experience. Whilst we glorify the soldiers who met their deaths on the battlefield, neglected are the memories of the many soldiers who did not die but suffered afterwards from horrific injuries both physical and mental. The Great War was supposed to be the war to end wars. Perhaps our memorials too easily lead in to a glorification of war rather than learning from the past to never repeat the same mistake again.
Our arts have a role to play in how we interpret human experience. This collection of essays presents a fascinating range of thoughts and ideas about that role.
Themes: Non-fiction, History, Performing arts, World War I.
Helen Eddy