Beyond climate grief by Jonica Newby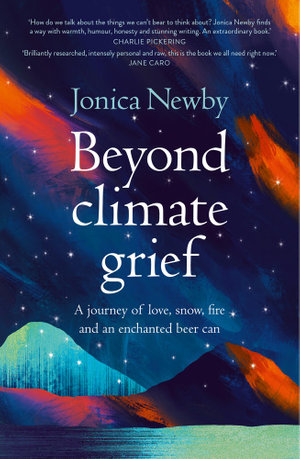 Dr Jonica Newby, best known for her work on ABC TV's Catalyst program, has written a very personal and absorbing journal, that encompasses feelings of grief and future reactions needed to cope with the emotional effects of climate change.
Snow loss was the initial signal for Jonica in her realisation and grief that the world has changed forever. At the same time, as her partner Robyn Williams, was diagnosed with cancer in 2015, the author came to the realisation that a life-threatening diagnosis had inspired a new way of thinking about the 'roller-coaster emotions of climate grief. The drought, fire, and pandemic events of 2019 and 2020 have heightened our emotional response. As a result, chapters in the book relate to love, courage, anger, creativity, worry, leadership, humour, denial, joy, acceptance and pride.
The personal stories of Jonica's mother and others who suffered through the bushfires were very moving.
Throughout the book the author draws on the creativity of Missy Higgins, knowledge and skills for the future of leaders such as Mike Cannon-Brookes, scientists such as Ove Hoegh-Guldberg and the humour of Charlie Pickering and Craig Reucassel. There are a number of thoughtful observations that readers are invited to consider, such as 'inoculation theory', 'disaster brain'. The book has an appendix with practical tips for those who have been through a disaster, from psychologists Dr Rob Gordon and Professor Sandy McFarlane.
At the conclusion, the author can't tell us what to do about climate change but addresses the importance of harnessing our feelings, whether it's anger or love and doing whatever we can.
Themes: Climate change, Emotions.
Paul Pledger