Beneath the trees by Cristy Burne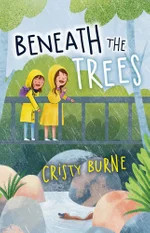 Sisters Cam and Sophie are visiting their cousins who take them to a very rainy rainforest in the hope of seeing a platypus. The small troop of children set off without adult supervision and the rain becomes torrential and the normally calm river is raging.
There is a sense of foreboding early in the story as cousin Jack tries to reach a swimming platypus, in dangerous situation with an unknown foreign object tightly fixed to its neck. Of course, Jack's bravado in reaching the distressed animal quickly turns into desperation as he slips on the eroding muddy riverbank, falls into the wild river and is swept away. While Liv, another cousin runs for help, both Sophie and Cam also find themselves carried away by the river and the adventure begins.
This is a rollicking ride for both the main characters and the reader. It is action after action as the three children have to deal with being lost in a muddy, wet, leech ridden rainforest. The individual personalities of the children become evident as they try to problem solve their way back to safety.
This is a small 100-page novel that crams in a lot of story. I was captured by the children's tale from the beginning to the end of the book. The dedication page infers that this story is based on the true experience of three children.
This is the third in a series of high adventure stories, the others being The Lighthouse and Off the Track. Teacher's notes are available.
I can highly recommend this novel to students aged 6 to 10 years. This book would be a great read aloud too.
Themes: Sustainability, Resilience, Wildlife conservation, Rainforests.
Jane Moore