Before you were born by Katrina Germein and Helene Magisson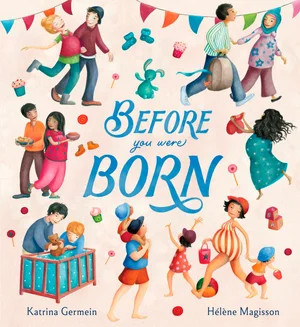 Helene Magisson's illustrations are a standout here; they have a generosity and a spirit not unlike the style of Julie Vivas in Our Granny. Vibrant double page spreads depict a diverse array of families as they prepare for the arrival of a new baby. Different skin tones, varying homes, an array of ages and famliy sizes, people with disabilities, same-sex parents and various cultures and religions are all depicted. The one thing that is constant throughout the pages is the happiness and love shown on the faces of the families. The other fairly common thread is food, as families come together to eat and enjoy each other's company. Gentle rhyming text, directed at the listener, walks readers through the days leading up to their arrival: 'Before you were born and while you grew, there was a party just for you.' They wonder what the baby is doing inside and when it will arrive ('How big were you growing? Did you have hair?'). Everyone gathers, eager and excited, bearing gifts of clothes and toys and food and the nursery is lovingly prepared. At last the moment arrives ('And now that you're here, I know what to do...I will keep showering my love upon you'.
Little ones will love being read this story by their parents as a reminder of their special and important place within their family and of how loved they are. It would also be a fantastic book to share with those children expecting a new baby in the family so they can see how they too were so eagerly awaited, and to allay feelings of jealousy. In addition, it would be a lovely book to gift to a new baby or expectant parents.
Themes: New baby, Family, Love, Rhyming story.
Nicole Nelson