Before the storm by Di Morrissey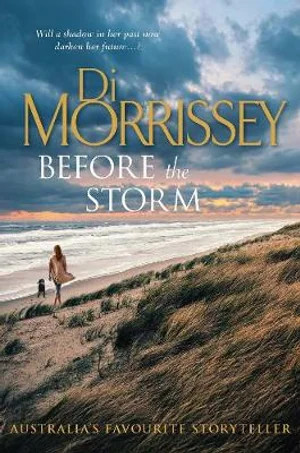 Ellie had a successful job in the IT industry until a colleague double crosses her to take her team.  Ellie decides to quit her job. She is then left with no idea of what she is going to do next. Needing a change of scenery, she decides to go and stay with her grandfather in Storm Harbour, a place she spent some time while growing up.
On returning to Storm Harbour Ellie starts helping her grandfather who runs the local paper The Storm Harbour Chronicle. She organizes the papers IT and gets them up to date. She also has a go at writing some stories for the Chronicle, and finds that she enjoys writing for the paper and researching for the stories she is writing.
Ellie and her grandfather uncover some shady deals that are happening within the local council and find that there are some people not happy with them poking around. While this is going on Ellie has a secret that has been affecting her life for years and now she is back in Storm Harbour the memory of those events are becoming more real, and having a greater impact on her.
Ellie is faced with choices when she is offered her old job back. She talks to her grandfather and best friend while trying to make a decision about what to do. She is given some good advice.  She begins to see that the worst thing you can do is keep a secret.  Ellie realizes she needs to be true to herself and finally decides to act upon this advice finding that she now has the opportunity for a happy life.
I highly recommend this book, it was hard to put down once I started reading it.
Karen Colliver