Becoming Brianna by Terri Libenson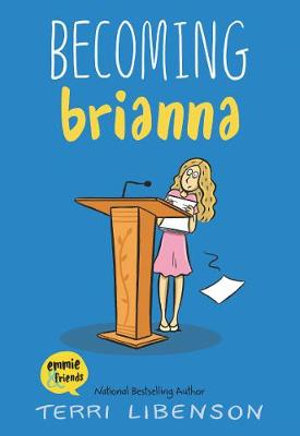 Thirteen-year-old, geeky, pizza loving Brianna is struggling through the minefield of Middle School wondering the usual things kids do at this age and questioning herself about everything at every turn. In this story she is persuaded by her Jewish mother to undertake her bat mitzvah (the female version of the bar mitzvah). This requires a lot of study for Brianna, let alone the embarrassing thought that she will have to be in the spotlight to perform the required prayers in Hebrew and make a speech in front of friends and family. Middle school children will love the way Brianna doubts herself constantly and copes with the changing scenery of her friendships through this process. The opportunity to be in the popular crowd at school also forms part of the conflict between Brianna and her one best friend.
The author cleverly explains how Brianna tackles this stressful time in her life by writing some parts of the story in the past and others in the present as her bat mitzvah approaches. The book is set out as notebook style chapters with speech bubbles highlighting the dialogue between characters, alternating with graphic panel chapters which make it very understandable and attractive to a wide variety of readers. The book is also highly informative about the Jewish faith and provides a glossary of Jewish terms at the back of the book.
Like Terri Libenson's previous books in the series Emmie & friends this book can be read alone. It is the fourth in the series set in the same school, so the characters go across all the books with the first three books being Invisible Emmie, Positively Izzy, and Just Jaime.
Themes: Judaism, Friendship, Middle school, Graphic novels, Girls.
Gabrielle Anderson