Bear and Rat by Christopher Cheng and Stephen Michael King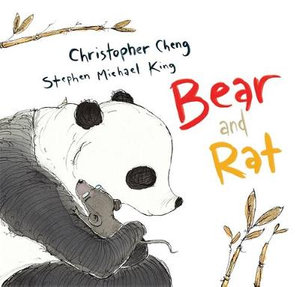 This is a deeply emotive, beautifully written book that will have a tear welling in the corner of every eye. Christopher Cheng, author of One Tree, has taken the personal experience of his wife's cancer diagnosis and created a book about the absoluteness of love and how true friendship means carrying each other through the toughest of times and beyond. Stephen Michael King's soft watercolour illustrations and the superb way he uses natural elements to convey meaning, change and emotion are perfectly suited to the gently paced and heartfelt text.
There is a little bit of Guess How Much I Love You and a whole lot of that age old question, 'Will you still love me if . . . ' But instead of Rat asking Bear if he will still love him, he is wondering "Will we always hold hands like this?" What about when we are old and wrinkly? Or when I am scared or sleepy? What about when we have to cross the river or when I am crotchety? Or if I do something bad or get really sick? Bear's answers are gentle and comforting, always reassuring Rat of his unconditional support. He will stay home, he will forgive him, he will carry him across the river, he will care for him. The tenderest conversation comes when Rat asks "What if I have to leave and go somewhere you can't come?". Well, Bear says, he will cry and cry but then he will remember all the great times they had and he will carry him with him forever. It is simply gorgeous when Rat asks "Where will you carry me?" and Bear points to his foot, his head and his heart.
This is an absolute gem for children and adults of every age that is sure to prove timeless and universal in appeal.
Themes: Friendship, Love.
Nicole Nelson