Baby's first train robbery by Jim Whalley & Stephen Collins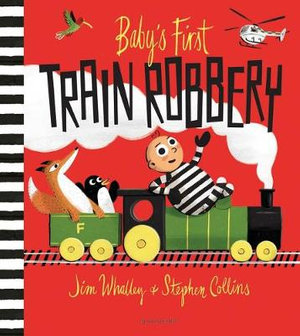 The words just rattle along in this lovely, nonsensical rhyming tale of Baby Frank and his attempts to go back home. He and his parents are on holiday by the sea. But all he can think about are his animals left back home with only his Grandma to look after them. She may be good at walking and knitting, but he is most concerned that she will not be able to tiger-sit or look after the apes. He decides that there is only one thing to do; he must go back home. He leaves a note on the sand for his parents, and rushes off to the train station. After waiting in the train cab with nothing happening, he moves a lever and the train sets off. This results in panic by one and all; his parents read the note and take flight, the emergency services are all alerted, the TV cameramen, journalists and on-lookers all arrive to point and stare. And what do they see? The train is headed for a ravine, and Frank is too small to reach the brake.
Kids will love the excitement and humour of this tale, as they worry with Frank about his animals, then are concerned that the train will go over the ravine, then breath a sigh of relief as Grandma and the animals save the day, and Frank.
Readers will love predicting the rhyming words, love repeating the lines with the reader, enjoy learning some of the lines to reiterate when the story is read again, and above all love following Frank and his exploits.
The neat ending will appeal, giving readers the opportunity to contribute some of their own resolutions to the problem.
All of this is wrapped around some very intriguing illustrations, showing Frank in his striped suit, having a great time as he heads the train for home. Kids will love spotting all the animals that dot the pages, and thrill with the hapless parents as they try to help Frank in his predicament.
A fitting sequel to Baby's first bank heist (2018) and Baby's first jailbreak (2020).
Themes: Family, Trains, Holidays, Zoos, Grandparents, Verse.
Fran Knight