Australia remembers: Wartime nurses by Jacqui Halpin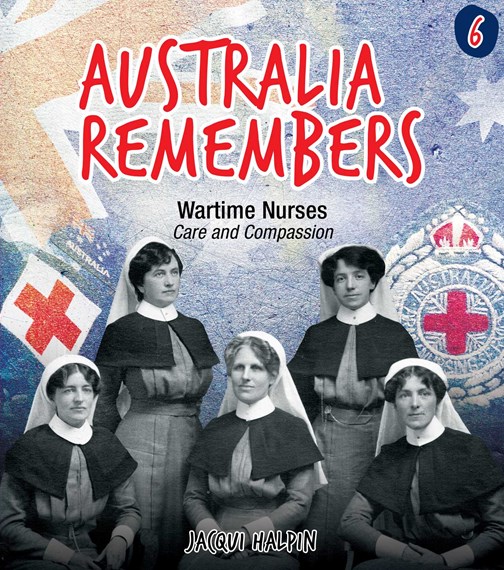 The latest book in the Australia Remembers series gives a fascinating and highly readable account of military nursing in Australia. Chapter 1 begins with a brief introduction to nursing and the formation of the NSW Army Nursing Service Reserve (NSWANSR) in 1899 with the first group of Australian nurses setting sail for South Africa in 1900. Each chapter that follows gives further information about the role nurses played during world conflicts ending with Chapter 11 where modern-day military nursing is discussed. In these more recent times, ADF nurses have served with medical teams during military and peace keeping operations, humanitarian aid missions as well as Australian natural disasters.
The easily accessible text is broken up into segments of information with introductory paragraphs in white boxes and further headings such as Fast Facts, Did You Know? Medical Breakthroughs, in different shaped and coloured text boxes. There is also the opportunity for the readers to answer some deeper questions related to the information being shared e.g. Do you have a uniform you wear with pride? The archival photographs from the 100 years of nursing add an important element to the book and each is clearly captioned.
For those readers familiar with Sister Vivian Bullwinkle, a worthy recipient of the Florence Nightingale Medal, there is a page dedicated to her amazing heroism. Further information can be found at ABC Documentary Vivian Bullwinkel An Australian Heroine DVD Trailer - Bing video There is also mention of South Australian nurse Sister Caroline Wilson who survived the Antwerp invasion, a tidal wave striking her ship on the way to England and was among the survivors of the HMAS Barunga when it was torpedoed in 1918.
The final two chapters in the book discuss 'Medals and Memorials' and 'The Sacrifice of Serving' and are followed by simple activities, glossary, index, bibliography, electronic resources and acknowledgements. This new release, with so much information to impart, is another valuable book to share with students in the lead up to 2023 ANZAC Day commemorations.
Themes: Australia, War, Nursing, Military Nurses, Care, Sacrifice.
Kathryn Beilby