Aussie Stem Star: Gisela Kaplan by Emily Gale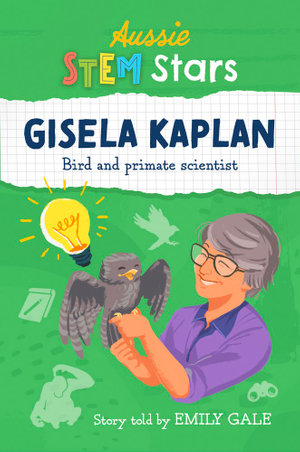 Aussie Stem Stars: Gisela Kaplan is the story of a German Australian woman who from very challenging beginnings has become a leading expert on animal behaviour. In the first few chapters, the story is centred on the Gisela's life in Berlin post-World War Two. Life was a struggle with both poverty and family traumas and there was little joy for this young girl. However her Nan was the one shining light who showed Gisela that there was a life to be enjoyed outside of the walls of her tiny apartment. From the bullying she was constantly subjected to at her school to eventually finding out she was Jewish, Gisela dealt with each of these in her stride. The gift of a bright blue budgerigar was the greatest joy for Gisela and was the beginning of her passion and need to understand animals. After moving to Munich, Gisela embarked on a career as an opera singer and moved again to Frankfurt. Here she married and had a child and then as a single parent decided to move to Australia. Life was very difficult as an immigrant but Gisela persevered. She taught herself to speak English from watching children's television, studied, worked in a factory and became a driving instructor. All the while observing the local wildlife and never giving up on her dream to study birds and animals and their behaviour. Gisela won a number of scholarships to University and completed a number of degrees in a variety of fields. The scientific research completed by Gisela focused on the Australian magpie, tawny frogmouths, primates and other birds. She has written important books and papers on animal behaviour.
Gisela Kaplan's story is a long and complicated one. How one person can achieve so much in life is truly inspirational. This story is one of hardship, endurance and resilience and is a perfect addition to any home, school and public library.
Themes: STEM-girls, Biography, Animal behaviour, Birds, Primates, War, History, Research, World travels, Resilience.
Kathryn Beilby