Aussie Stem Star: Georgia Ward-Fear by Claire Saxby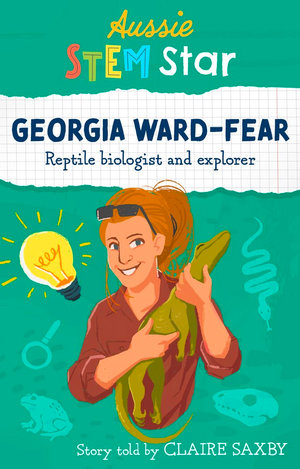 Aussie Stem Stars: Georgia Ward-Fear is the autobiographical story of an Australian reptile biologist and explorer who is passionate about animals and conservation. This narrative non-fiction novel tells the story of Georgia's journey from childhood to her world-renowned research. The story is an honest account of Georgia's life, disappointments, hopes and dreams and talks about her love of nature above all else. The story begins with Georgia and her family holidaying in the Blue Mountains where their home backed onto a forest. It was here Georgia's love of nature was nurtured. Eventually the family moved into their holiday home permanently and much to Georgia's disgust, she had to change schools and life as she knew changed completely. The bush and the creatures inhabiting it provided Georgia with much needed space and solace. When circumstances changed again, the family moved to Lithgow where Georgia attended secondary school and then was accepted into a tertiary Science Degree. However Georgia took a gap year and travelled overseas where she worked and took holidays in other countries. During her time away Georgia was always observing the wildlife of the particular area she was in and how the climate, the people and the animals were all connected to each other. Eventually Georgia returned home to Australia to begin her University course. From then her life journey and passion for nature and conservation was on the way to being fulfilled.
This is an engaging and well-written story and would be suitable as an independent read or class novel especially for those students for whom nature and animals have a strong appeal. There is a contents page at the beginning, detailed glossary at the end, simple illustrations and highlighted facts throughout.
Themes: STEM, Autobiography, Reptiles, Conservation, Adventure, Nature, World Travel, Science.
Kathryn Beilby