At the end of the day by Liz Byrski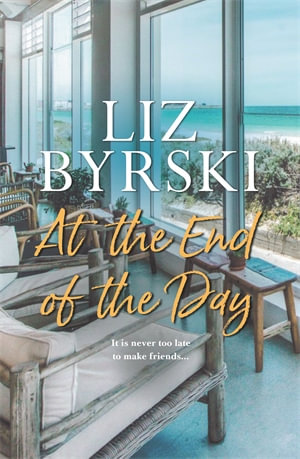 Miriam Squires is on her way home to Perth and her bookshop after her annual UK visit with her sister Alice. Now aged 75, she has found it a difficult trip, her post-polio symptoms becoming more pronounced and she decides this will be the last time she makes the journey. Author Mathias Vander has been in Europe making a last visit to his terminally ill best friend. He is flying in to Perth to stay with his daughter Carla, the one remaining member of his family. They meet up in an airport lounge and have an instant, and suprising rapport as they are both normally private and independent. A disrupted flight allows them more time to get to know each other and by the time they arrive a firm friendship has developed. Mim is met by close friend Jodie and Mathias by Carla and they too have an instant liking for one another. But coming home is difficult for Mim. She is feeling her age and disability and the bookshop is becoming a burden. When Jodie injures herself and tactfully suggests Mim can't look after her she feels she is losing her independence. Now in his late 70's Mathias too is reassessing his life and decides to move to Perth permanently to be near Carla, and Mim as he is enjoying her company. In finding each other Mim and Mathias find the strength to face some of their burdens, acknowledge the damage of a lifetime and seize the chance to embrace more positive things.
Lovers of women's fiction and Liz Byrski's ten other books will enjoy this one but I found the story was a bit trite and preachy and there was no real depth to the characters beyond their relationships with each other.
Themes: Ageing, Friendship.
Sue Speck