Are you there, Buddha? by Pip Harry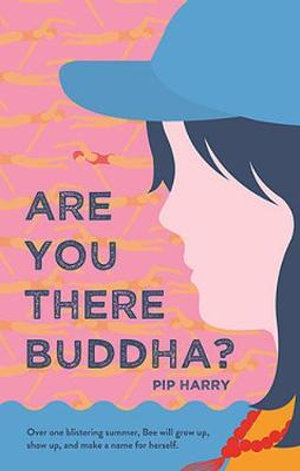 This is the highly enjoyable, believable story of twelve-year-old Bee as she matures both physically and mentally. On the home front Bee is coming to terms with Kath, her stepmother, who is doing her best to support Bee through puberty. This is in the absence of her unreliable real mother who left Australia to pursue life in an Indian Ashram. Bee is also starting high school, trying to make worthwhile friendships, and furthering her success in swimming. In trying to connect with her absent mother Bee pursues learning about Buddha. She repeatedly asks Buddha to help by delaying her period until after her swimming championships. Interspersed through the story are Buddha's wise teachings which she considers and uses to guide her choices. Bee is quietly strong and wants to be true to herself despite mean girl bullying both at school and at the pool. Nor is she ready to turn her long-term friendship with Leon into a romantic one.
There are many things to like in this verse story such as the rhythm of the language with short sharp sentences, great dialogue, and humorous observations. I think readers will love Bee and appreciate the way Pip Harry captures the awful real things like hair growing in all the wrong places and embarrassing accidents with periods. Even in this day and age not many authors deal with these agonising dilemmas. The characters are well fleshed out and most of the males, like Leon and her father, are genuinely trying to help and understand women. With a background of extreme Australian bushfires and climate change Pip Harry considerately and appropriately, portrays Bee being positively proactive about these issues. Highly recommended for readers of 10 years and above.
Themes: Bullying, Blended families, Resilience, Sport.
Jo Marshall