Antarctica The Melting Continent by Karen Romano Young and Angela Hsieh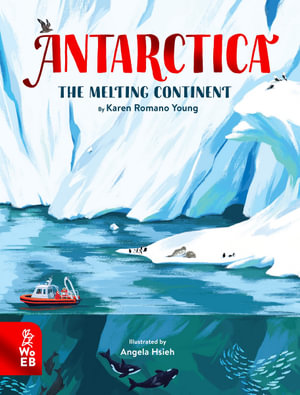 Antarctica is one of the most isolated and harshest environments on the planet, often referred to as "the final frontier".
From her harbourside home in the very south of the South Island of New Zealand, as a young girl in the 1930s my mum would watch the ships head southwards to the ice, literally the next stop after they left the safety of the port of Bluff. And she began to dream. In 1968, after years of dedication and hard work, she broke the "petticoat ban" and she too, joined those sailing south from Bluff - on a converted fishing trawler that was the precursor to the luxury liners of today, as Lars-Eric Lindblad pioneered Antarctic tourism and she became the first female journalist to go south.
The Magga Dan tied up at McMurdo Sound, 1968.
Fifty+ years on and it is so different - or at least the getting there is, and the presence of women is no longer a novelty and the issue of where they might go to the toilet no longer a primary barrier!
Today, in the southern summer, tourist trips leave regularly for the ice, although most often it is via South America to the Antarctic Peninsula as the crossing of the Drake Passage is usually only about two days while scientists are there all year round and women work alongside the men. So, this new book provides an up-to-date view of this isolated continent in a narrative that draws on the author's own experiences as well as extensive research and interviews with scientists, combining a unique personal perspective with up-to-date information about the land and its inhabitants, the investigations being undertaken and the discoveries being made such as studying climate change to investigating ice cores almost a million years old to learn about the history - and future - of our planet. There is still so much to learn and do and the book's scope offers many opportunities for students' interest-driven investigations.
While most of its readers probably won't have the wherewithal to afford a trip on one of the many ships that have made it a bucket-list destination, perhaps this book will inspire them to take another route under the Australian Antarctic program and dare to dream - just as my mum did all those years ago! For that truly was "Dreaming with eyes open..."
Themes: Antarctica.
Barbara Braxton