Animal Migrations: Flying Walking Swimming by Diane Jackson Hill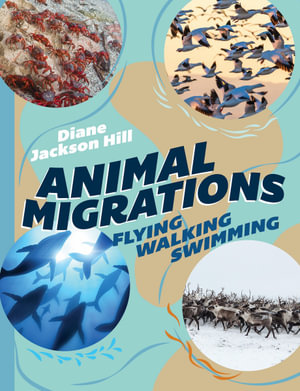 Retired Australian Primary School teacher, Diane Jackson Hill, has written an entertaining book about animal migration that will appeal to primary school aged children in both Australia and beyond. This informative and attractively presented book provides snapshots of migrating animals from across the globe. The journeys are long, dangerous, and often arduous yet will surprise the reader with how complex and determined each species is to reach their destination.
The book begins with gorgeous endpapers in soft pastel colours and tiny white images spread across the pages. This is followed by an acknowledgement of First Nations Peoples, the Gunditjmara of the Victorian south-west region, and the Canadian Plains Cree tribe Elder Dr Winston Wuttunee. The contents page has ten chapters listed, beginning with 'What is animal migration' and ending with 'Helping Hands', a chapter that looks at how humans can help. In the final pages is a world map, further reading and resources, glossary and index.
The author has shared the incredible journeys of mammals such as the Straw-coloured fruit bats that fly in a colony of approximately 10 million from the Congo to Zambia to feed on a particular ripening fruit, birds like bat-tailed godwits that fly 11000kms in nine days non-stop and insects such as the well-known Monarch Butterfly that flies 3000 kms south to miss the freezing winters in North America. Each and every journey is fascinating. The presentation of the information works perfectly for younger readers with stunning well-captioned glossy photographs, text and fact boxes clearly differentiated, plus tables, diagrams and clever graphic-style images.
This book would be a valuable resource for a home, school or public library. Teacher resources are available.
Themes: Global Animals, Migrations, Tracks, Threats, Survival.
Kathryn Beilby