An Aussie Christmas gum tree by Jackie Hosking. lllus. by Nathaniel Eckstrom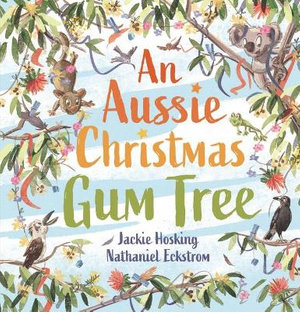 When Possum notices the children decorating a tree near their house, he asks Kookaburra what is happening. Several of the animals take up the idea of decorating a tree, but have no idea of how to go about it, after all, decorations do not just lie around. Magpie has an idea; we will ask Bower Bird, after all he collects lot of sparkling things.
They all set out to find his bower and ask him for help.
In four line rhyming verses, the idea of the Aussie Christmas Tree develops with a possum, kookaburra, wedge tailed eagle, wombat, koala, kangaroo, magpie, and bowerbird making an appearance in their quest to make an Aussie Christmas Tree. They collect lots of things from the bowerbird, taking them back to the gum tree near the farm and begin to decorate the tree. But all the decorations fall off the tree and onto the ground. The bowerbird shows them how to thread the trinkets onto the tree using pegs.
Digital illustrations reflect the landscape of the bushland these animals call home. Children will love recognising the various animals, the iconic Australian touches: the farm house, the flora and fauna, the hills, the clothes line, the ute. Each has a place in the background of the story and will entertain younger readers. The idea of Christmas is one beloved by all children and this story of decorating the tree will sing with references to what is happening in their homes and at school. The rhymes will elicit responses from the children, predicting the rhyming word at the end of each sentence, perhaps adding their own rhymes, or even a refrain or two.
Lovely to read and particularly read aloud, with lots of eager helpers, the tale is one of a bunch available at this time of the year and will be used with gusto.
Themes: Christmas, Christmas tree, Decoration, Australian animals, Australian flora and fauna, Humour.
Fran Knight