All the words I need to know by Jane Godwin. Illus. by Andrew Joyner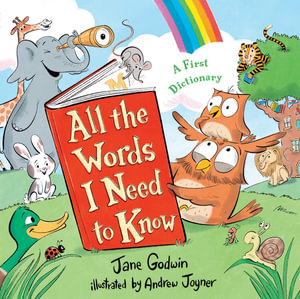 Anyone who has a young child or grandchild or is working in a childcare centre is sure to love this first dictionary. Children will be captivated right from the first page with the cute little owl introducing the book with the following rhyme:
All the words you need to know
Will help you as you learn and grow.
From ant and ball and yak and zoo,
Here's a word book
JUST FOR YOU!
From then on, the owl guides the reader through each of the letters of the alphabet: the illustrations being humorous and easy for a toddler to enjoy. Some letters have a double page spread like C for Cat, coat, car and cup with additional captions like 'My coat has stripes', and 'Careful! Don't crash' for the car. This adds an extra dimension of telling a story about the car. Other pages have activities like the word fish where the reader can count how many fish are in the pond. Some pages give a clue to what letter comes next, like the J page 'jump jump jump. I know who else can jump' leading to K for kangaroo. The cute illustrations of all the animals and people featuring big eyes and grinning faces also will bring smiles to the faces of readers and listeners.
This is an exceptional alphabet book that will challenge young children's imaginations and give them a very enjoyable understanding of all the letters of the alphabet.
Themes: Alphabet, Humour.
Pat Pledger