All that's left in the world by Erik J. Brown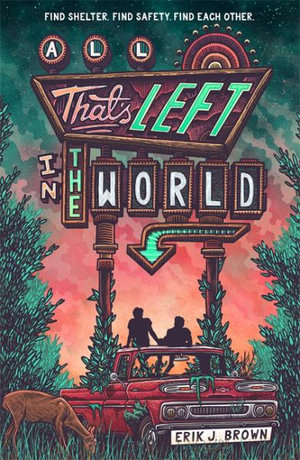 Andrew, seriously injured after falling into a bear trap in the woods struggles towards a dark cabin, desperately seeking food and rest. It is there that he meets Jamie, another solitary survivor of the drastic Superflu pandemic that has wiped out the world as we know it. Most of the world's population has died, with bodies abandoned in the open, and the last survivors reduced to looting and pillage to find food and other necessities.
The budding friendship between Andrew and Jamie is jeopardised by Andrew's reluctance to share a shameful secret, and while trust gradually builds between the two of them, Jamie is aware that there is always something held back. This is the story of a tentative LGBTQI relationship, set within a dystopian world. In an author's note, Erik J Brown tells of how he was tired of not seeing 'queer representations in post-apocalyptic stories'. So this novel is it – a post-apocalyptic novel with a love story at its heart.
It is also an adventure story, where the two set out in hope of reaching a rescue destination providing aid from EU nations that have overcome the pandemic. There is danger all along the way, with ruthless marauding gangs that loot and kill. But there are also kind people that offer help; for while some descend to savagery, others aspire to a better way of being. Love and friendship offer hope.
The description of the developing relationship between Andrew and Jamie is as tender as the friendships and relationships in the LGBQTI+ romance Here's to us by Becky Albertalli and Adam Silvera, but Brown's novel places its characters in a whole other world in a dark future. The combination of romance and adventure makes it a bold new novel for young adult readers.
Themes: Dystopia, LGBQTI+, Quest, Pandemic.
Helen Eddy