All four quarters of the moon by Shirley Marr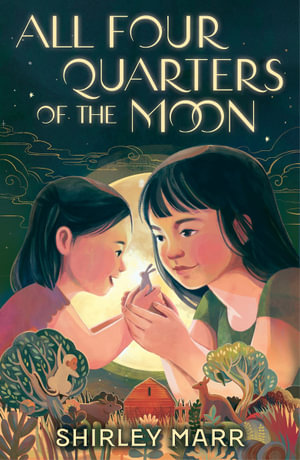 The Guo family leave Singapore for Western Australia so Ba Ba, the father, can have a better work/life balance and the family can enjoy a better life. We follow their experiences through the eyes of 11-year-old Peijing. She is extremely close to her 5-year-old sister Biju. They spend time together creating a Little World of hand-drawn miniature creatures. For Peijing Australia is a scary new world with vast blue skies but Biju is far happier and embraces the new experience. They both start at a new school and on several occasions encounter racism. So does their mother, Ma Ma. Peijing makes friends with Joanna, a neglected girl experiencing troubles at home. They are both on the outer of classroom friendships. Ma Ma rarely leaves the house and Ah Ma (grandmother), who has been Peijing's confidante, becomes forgetful and goes missing. This event means Ba Ba must take leave and support his family as they reassess and relax their traditional ways.
Shirley Marr draws on her own experience of migration and gives us an authentic insight into cultural differences. She successfully creates the era of 1980's Australia and crafts believable relationships and characters. The tender relationship between Peijing and Biju is central to the story. Peijing takes on the role of big sister patiently. Biju's infectious, impulsive behaviour is a great foil for Peijing's seriousness. Peijing feels the heavy responsibility of caring for her mother and grandmother as well. Through Peijing's reflections the reader learns a lot about traditional ways and the importance of honour. You feel Peijing's embarrassment at having to wear an over-the-top dress to a birthday party and her mother turning up at school to hand feed her lunch. Peijing quietly rebels and enters an art competition knowing her mother doesn't value non-academic learning. Biju's retelling and reimagining of Chinese tales such as the Chinese Zodiac, add a humorous new take on the stories. The book deals sensitively with issues of dementia, domestic violence, and racism. A truly heartwarming and poignant story for middle years students.
Themes: Migration, Racism, Friendship, Cultural difference, Domestic violence, Dementia, Family.
Jo Marshall