Again again by E. Lockhart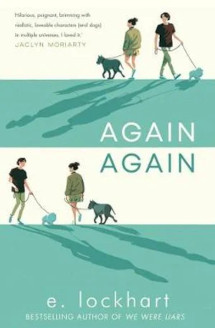 Mickey Double L, Jack and Oscar, are all potential love interests entering Adelaide's life through alternate scenarios as she spends her summer catching up on her academic requirements at Alabaster College. Whilst she is supposed to be designing a model stage set for a play she is studying, she is more interested in her part-time job - walking the dogs of her various college professors. The lives of B-Cake, Ella Bella, Rabbit and the The Great God Pan are both a salve and a source of drama.
We become absorbed in many possible dates with Jack and finally Oscar, after learning that her long-term boyfriend Mickey Double-L had split up with Adelaide, not believing their relationship could sustain a summer apart.
The reader assumes the bold font passages are the fantasies, but the edges blur towards the end of the book and we doubt choosing her trysts with Jack as reality when she suddenly seems to have had a history with Oscar from day one. A little confusing but the strategy creates interest and engagement.
Perhaps Adelaide is just as confused as Lockhart's readers due to the very real hot/cold long-distance relationship with her younger brother, Toby, an addict living with their mother in Baltimore for treatment; while Adelaide remains with her father Levi, at his academic post at Alabaster. This constant and parallel inner angst, which impacts upon Adelaide's work and relationships so greatly, is more suited to experienced readers.
One thing we've come to expect from Emily Lockhart, the bestselling author of We Were Liars, is experimental writing born of a doctorate in 19th Century Literature. Read more about her craft at: www.emilylockhart.com
Themes: Coming of Age, Family, Romance.
Deborah Robins