Ada and the galaxies by Alan Lightman and Olga Pastuchiv. Illus. by Susanna Chapman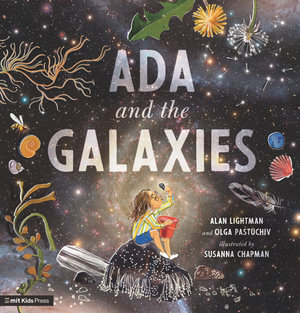 The striking cover design and the beautiful endpapers will entice the reader, both young and old, to explore this gentle story. Ada loves stars but where she lives in New York is so illuminated by city lights that she cannot see the stars. She and her Mum travel to her grandparent's home on an island in Maine where the night sky is very dark. Ada waits impatiently for nightfall and it is up to her grandparents, Poobah and Ama, to keep her entertained until it is dark. During the day they visit the beach where they tell Ava all about the sea creatures and local wildlife. When it is finally dark, fog rolls in and Ava still cannot see the stars. Poobah suggests they look at pictures of stars and galaxies to which Ava reluctantly agrees but she listens to Poobah's explanation of galaxies and has lots of questions. Finally, the fog clears and Ava and her family venture outside to observe the night sky.
The authors have provided interesting facts about galaxies at the end which add to the information shared already throughout the story. The stunning illustrations complement the text perfectly and add to the appeal of this very captivating read. A perfect book for home, school and public libraries.
Themes: Family, Diversity, Sea shores, Galaxies, Night Sky.
Kathryn Beilby