A voice in the night by Sarah Hawthorn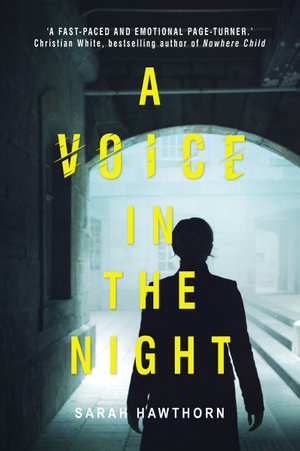 Lucie has moved to London and taken up a new role with a prestigious law firm, leaving behind her family and her newly divorced ex-husband. Things are busy but going well, then she receives a hand delivered note : At last I've found you. A shock I'm sure. But in time I'll explain. Martin. Having lost Martin in the 9/11 attacks in New York, Lucie has never forgotten him - nor the fact that their relationship was a secret, with Martin promising he'd leave his wife for her. She was devastated to lose him that day, and can't be sure this note is real. Then a series of events occur leaving her questioning if he did pass away that day, or if he disappeared instead in the aftermath of the tragedy. But is it Martin or someone harassing her, or has paranoia set her off kilter?
This mystery thriller has compelling characters and takes place in the past and the present, switching between the two seamlessly. With a career driven protagonist juggling moving on from a divorce, settling in a new city as well as new relationships, readers will find Lucie relatable. Locations vary throughout the book too, and the fast paced writing makes the book very easy to read quickly. Descriptively written and emotion driven, this is a sure fire hit for those who enjoy thrillers and mysteries. While aimed at older readers, this novel would be ideal for readers of Karen M McManus. Readers will find the story has the perfect amount of twists and turns, and be unable to put the book down, wanting to know what will happen next.
Themes: Mystery, Thriller, London, New York, 9/11 Attacks and Aftermath, Relationships, Paranoia, Obsession.
Melanie Phillips