A really short history of nearly everything by Bill Bryson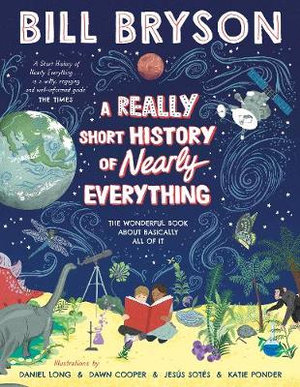 Bill Bryson has an insatiable curiosity about how things began and all things Science related. He is well-known for his books on travel, the English language, science and other non-fiction topics. In A Really Short History of Nearly Everything the author has condensed his extensive research into a large, colourfully illustrated book which will appeal to those younger readers who love facts about all sorts of scientific fascinations. The single topic double page spreads have cartoon-style drawings with various facts highlighted and the information presented in a clear and easy to read and follow format. The detailed contents page has the myriad of topics covered listed under seven distinctive headings. Following this is a welcoming foreword by Bill Bryson where he gives the reader an overview of his questioning and searching and where this has lead him. All sorts of facts about atoms, dinosaurs, meteors, inventors and scientists, the age of Earth as well as our own body bacteria are some of the engrossing areas of interest. For those of us who have had to learn and memorise the Periodic Table there is some interesting background information given and an explanation of how the table was formed. At the end of the book there is an extensive index as well as picture credits.
This book would be a welcome and valuable addition to a classroom or home library.
Themes: Science, History, Time, Space, Human Body, Our Earth.
Kathryn Beilby