A pho love story by Loan Le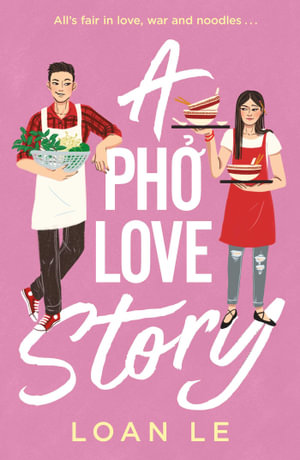 Meet Linh Mai and Bao Nguyen. They like each other. But their families are rivals in the pho restaurant business, directly across the street from each other! Growing up so close yet apart, they finally come across each other and realise the attraction is mutual. They decide to go for it, but have to keep it a secret from their families. Working for the school newspaper, Bao writing the articles and Linh sketching and painting the scenes, they compare notes on parental expectations. As they learn more about each other, their dreams (or lack of) and their families, will their families' age-old feud keep them apart?
Written in dual perspective, swapping between Bao and Linh's outlooks, this high school rom-com is a lovely story, with star-crossed lovers and complicated families. Linh and Bao's relationship slowly develops through the book, becoming friends before starting to date. Joined by their faithful best friends, Ali and Viet, these relatable characters interweave their stories seamlessly. Covering issues facing teenagers of immigrant parents, as well as pressures facing teens on choosing their path after high school, this novel was well written and authentic. The author has incorporated Vietnamese language and family dynamics, as well as the racism facing immigrants. With plenty of descriptive narrative surrounding traditional cuisine, beware if you read this while hungry! Ideal for fans of YA romance, and those who enjoyed Loveboat, Taipei by Abigail Hing Wen.
Themes: Love Stories, High School, Rom-Com, Star-Crossed Lovers, Vietnam, Refugees, Restaurants; Cooking.
Melanie Phillips