A matter of cats by Elizabeth Hutchins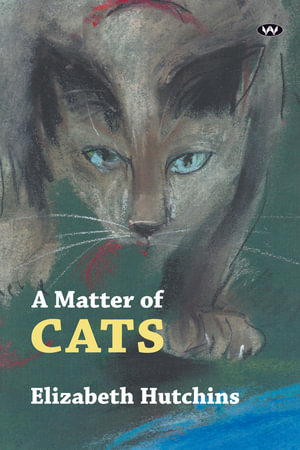 A matter of cats by Adelaide author Elizabeth Hutchins, was first published in 1994 by Hyland House publishers and reprinted in 1995 and 1996. The revised edition is published by local Adelaide publishers - Wakefield Press. It is an earnest book of its times. In the year it was first published it was shortlisted for the Wilderness Society's Environment award for Children's Literature - Younger Readers Section. A substantial percentage of royalties for this book are contributed to the Warrawong Sanctuary around which this book is based. This sanctuary still exists today.
The cover picture and illustrations throughout the book are eye-catching. Australian artist Ann James has created a powerful painting of Bunyip the cat who stalks the pages of this book. Andrew Best has accompanied each chapter with either simple drawings that could have been drawn by the main character (Kate) or illustrations using an old fashioned and time consuming technique called scraperboard.
Elizabeth Hutchins is a former Adelaide teacher, a member of Adelaide writer circles and writer of many books and articles for both children and adult readers. She lives in the Adelaide Hills and much of her work is inspired by the natural environment of this area. For Adelaide readers, many of the places that are written about in A matter of cats would be very familiar.
A matter of cats was published around the same time as Gillian Rubinstein's Foxspell. Both books are directed at a late primary/ Middle school readership and both share the same Adelaide Hill's location. Foxspell, to this reviewer, is the more compelling read, even today.
A matter of cats is centred around the main character Kate, who loves cats and lives in the Adelaide Hills with a cat. She is a likeable character who carries a load because of a broken family and a young brother who is exhibiting behavioural problems. She befriends the daughter of a new family to the district who have just purchased "Mala" sanctuary. Therein lies the looming problem.
A matter of cats is conscientiously written. It is a slow burn novel where facts are fed about the environment in a somewhat teacherly style and mingled with somewhat stilted conversations, happenings and relationships between adults and children and between children themselves. The original book was written almost thirty years ago and although it addresses extremely worthy topics and themes and now appears in an updated revision, something about the style and plot development feels slightly dated. Even so, children who are residents of the Adelaide Hills may find the book interesting but not captivating. They may find it hard to become really invested in the characters or the story. Right at the end things become more exciting and the closure is satisfactory for the reader.
Because A matter of cats is set in the Adelaide Hills and deals with an ongoing environmental issue (that of domestic and feral cats killing wildlife) school and local libraries could consider purchasing copies. Whether the writing style and plot development appeals after nearly three decades willl be interesting to see.
Themes: Environment, Family dynamics.
Wendy Jeffrey