A lighthouse story by Holly James and Laura Chamberlain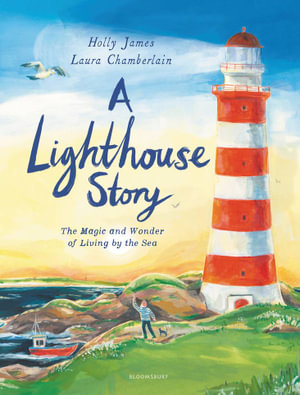 When Eva goes to stay with her grandfather, she is excited. He lives and works on a lighthouse, so her days are spent helping him with his chores, watching the swirling sea around the little island and listening to his stories. Through their days together, the reader absorbs a great deal of information about the lighthouse, why it is there, what is its purpose and how it is run, while at the end of this stunning book are a number of pages giving more factual information: the lighthouse keeper's handbook, famous lighthouses of the world, a look at modern lighthouses and a sideways plan of what is in a lighthouse.
Eva has to be taken to the island on a boat, an adventure in it itself as she watches the lighthouse come closer, its red stripes standing out against the blue sea. She helps Grandad clean the lens so that sailors can see it in the dark, she reads his daily journal of the weather, helps turn on the foghorn when it becomes foggy. When she has some spare time she loves walking over the rocks, checking the rock pools, watching the birds, spying the seals and watching the shiny scales of fish darting about near the shore.
But at night when it is dark, she loves looking at the stars and seeing the constellations that Grandad picks out. One night it becomes stormy and after Grandad checks the light they go downstairs to the safe and warm room at the bottom of the lighthouse and he reads her stories about bravery and courage. The tale of Grace Darling encapsulates these qualities as Grace and her father venture out one stormy night to rescue people after their ship founders.
What a tale to read snuggled up against grandfather on a cold wet and windy night. The story of Grace Darling contrasts with the story of Eva and her Grandad, one where she is on holiday helping her grandfather with the daily chores, enjoying herself, but hearing about the tougher lives led by lighthouse keepers in the past and the work they were expected to do.
A wonderful read, children will thrill at the idea of holidaying on a lighthouse but be made aware that places like these have an important role to play in keeping shipping safe.
The stunning illustrations show enticing detail of island life and the lighthouse and its work. Children will love poring over the detail, relishing the huge amount of information given both in the images and text. They will be able to fill in Granddad's daily diary watching the different skies with an array of clouds and weather. The sea is absorbing with its changes of colour and temperament, enabling young children to see how the sea can be both inviting and playful then treacherous and dangerous.
Themes: Islands, Sea, Lighthouses, Grandfathers.
Fran Knight