A glasshouse of stars by Shirley Marr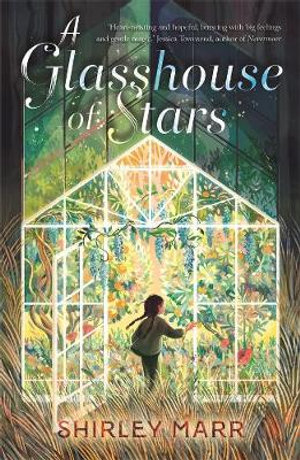 This is a #ownvoices novel – a book about diverse characters written by an author in that same diverse group. Shirley Marr is a first-generation Chinese Australian who writes about the space where Eastern and Western worlds collide.
This is her second children's novel (after Little Jiang was published 2020). It is written in the present tense and in 2nd person. This can be a challenging point of view to read, but it allows the reader to really become Meixing, a girl who has just arrived in the New Land.
````````````
Your pregnant mother (Ma Ma) and father (Ba Ba) have inherited a house from your late First Uncle and moved to give you and the new baby a better life.
But everything is so confusing and tricky. The house is scary, not just a little bit scary but 'Big Scary'. You have the wrong bag and shoes for school. You struggle with the language. You meet a girl who pretends to be your friend but isn't. Your neighbours are helpful but strange. Ba Ba is cranky and tired, and Ma Ma is disconnected and reluctant to leave the house. You think Big Scary has hidden rooms and lurking presences, and it seems to grow and contract depending on the moods of your family.
And just when you already think things are bad they manage to get even worse when tragedy occurs. You take on worries and responsibilities that are too heavy for you.
To escape all the swirling emotions you retreat to an old glasshouse in the garden, where you see First Uncle is still there along with the sun and the moon, and seeds that instantly flourish. You share the glasshouse with others who need a little bit of magic too and hope that somehow things will turn out okay.
````````````
This book is both complex and gentle in its exploration of the emotions, imagination and relationships of an immigrant girl dealing with big changes. A teacher's resource is available with discussion points including the: 2nd person point of view; immigration experience; cycle of life; and mental health.
Themes: Family, Friendships, Bereavement, Imagination, Immigration, Mental health.
Kylie Grant