A dragon in a wagon by Lynley Dodd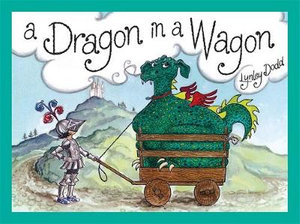 First published in 1988, this board book edition of A Dragon in a Wagon is perfect for young ones, who will appreciate its simple rhymes and matching illustrations. Beginning readers will also enjoy being able to read much of the story for themselves. "Susie Fogg took Sam her dog along by Jackson's Stream. As as they walked Susie talked, and dreamed a wishful dream". Her dream is for a more exotic pet...perhaps a snake eating cake? Or a whale in a pail? The simple rhymes are perfect for young children and their emerging phonological awareness and older children could be encouraged to come up with their own rhymes. It could also be used alongside the similar title Frog on a Log.
This is another truly timeless Lynley Dodd tale that will delight all young Hairy Maclary and Slinky Malinky fans.
Themes: Board Book, Rhyming Book, Imagination.
Nicole Nelson