Funny Kid: Prank wars by Matt Stanton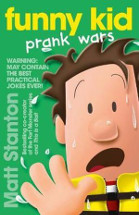 Harper Collins, 2018. ISBN 9780733335990
(Ages: 8-12) Highly recommended. Themes: Humour. This is the third book in the Funny Kid book series. Max, otherwise known as 'funny kid' is determined to make his class mates laugh at his pranks and antics, at any cost. When Max's class embark on a school camping trip, he makes grand plans to humiliate Tyson, the new boy, by making him the centre of his gags. A prank war is on between the two boys, after Max finds himself at the unfortunate end of one of Tyson's master pranks.
While engaging in their prank war, Max, Tyson and their class mates grapple with mysterious lake monsters, makeshift toilets, a smuggled pet duck and plenty of gas inducing beans. A generous serve of ingenious pranks makes this one very unforgettable camping trip.
Prank Wars:

Full of appealing toilet style humour.
Targeted at 8-12 year old's.
The illustrations are comic book style, with interesting speech bubbles.
Hilarious and slapstick adventures of fun and frivolity.
For fans of Diary of a Wimpy Kid, Tom Gates and WeirDo.
Donna Isgar