Milo: a moving story by Tohby Riddle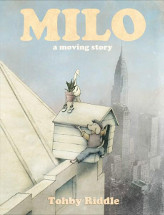 Allen and Unwin, 2016. ISBN 9781760111632
(Age: 6+) Recommended. Friends, City life, Relationships. A picture book for older readers, the title alerts readers to the double meaning of the story, particularly when the cover illustration shows Milo and his kennel perched precariously on top of a tall building.
Milo lives a quiet, ordered life. He has a number of friends with whom he has adventures and when they are at home during the night call out to each other across the rooftops of the city. But one night, he dreams he is on a boat, with high winds and choppy seas. He tosses and turns, restless and sleeping badly. When he wakes he is tired and impatient, so much so that when his friend, Snombo calls he rudely sends him away. He instantly regrets his rude words to his friend and that night a storm erupts, leaving Milo and his kennel stuck on a roof. Alone he ponders his plight and the events of the previous day. A migrating bird, Carlos flies in and helps him from his kennel onto the roof of the building and during the night they talk and swap stories.
In the morning a window cleaner comes to work and in return for helping him down from the top of the building, he helps the window cleaner finish his work.
He returns with his kennel to his usual spot, surprised that his friends are there looking for him, even Snombo. He recounts his adventures and during the celebrations he apologises to his friend, Snombo.
That night he dreams again of being in a boat, but this time the seas are calm and the boat still.
This charming picture book illustrates the importance of friends, of working to keep them, of the adventures that friends have together. Riddle's illustrations in a mix of colour wash, collage and photographic images are a treat. They will have younger readers searching for instances of city life as they hum the tunes of In the good old summer time, and Give my regards to Broadway. The New York setting will intrigue readers who will be able to pick out sights of that city. Riddle's whimsical approach to the group of friends, shown as dogs dressed in their apparel from the mid twentieth century is further enhanced by the sepia colours used, giving the whole a very old fashioned look.
Like all of Riddle's books, the more it is read, the more the reader sees.
And it is worth the effort.
Fran Knight
Editor's note: Teacher's notes are available.