Sue Lawson, Blending reality and fiction: an interview by Fran Knight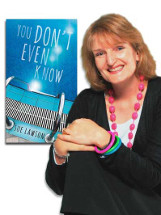 Sue Lawson, a children's writer of some twenty books, is in Adelaide for a month, writing and editing her latest novel.
The May Gibbs Children's Literature Trust has awarded Sue the time away from home, a time to just write. To this end she is working on her current novel, one set in 1965, concerning the Freedom Ride of Aboriginal people in their demand for equality in Australia.
Having just written a non fiction about protests, to be published by Black Dog Books early next year in the Our Stories series, Sue has created a fictional story about the 1965 incident which will expose the times for young adult readers. This tale she is fleshing out during the fellowship in Adelaide as well as putting the finishing touches to the Our Stories book.
Like several other of her books, the mixture of fact and fiction encapsulates a time which is real for the reader. Finding Darcy (2008)used her knowledge as a researcher of an unknown family member to recreate a story of one young girl researching the man in the photograph at her Gran's house, someone never spoken of. The book not only gives the reader an involving account of a deed in Australia's past where a Japanese prisoner of war ship was sunk by an American submarine, killing all those on board, but gives a riveting tale of one girl's search for her ancestor, finding herself as she ploughs more deeply into her family's history.
Similarly Forget me not (2012) is based on the small personal items seen at the Titanic exhibition in Melbourne in 2010. A story is woven around some of the small objects Sue saw at this exhibition, and while thinking that no one could write anything new about this incident, she saw the disaster from a fresh perspective.
Other books that Sue has written include the Diva series, a group of eight shorter novels for mid to upper primary readers about a group of girls and their efforts to win the competition for young talent. Friendships and fallings out, high fashion and family relationships all figure in this well received series, published first in 2006, and republished in 2010. And the amazing, You Don't Even Know (2013) about a young adult critically injured after a walking under a bus, sharing a room with a terminally ill cancer patient, is based upon Sue's own bout with cancer and knowledge of hospital wards.
A longer article about Sue Lawson and her work has been written for Magpies (2015), and her website gives more information about Sue and her writing.