Interview with James Roy by Pat Pledger with questions from Fran Knight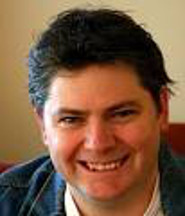 James has been in South Australia as a recipient of the May Gibbs Fellowship, allowing him to stay in an apartment at Norwood for a month to enable him to write. This venture has seen a number of authors who are now well known staying in South Australia. Past recipients include Shaun Tan, Karen Tayleur, Lorraine Marwood, A.J. Betts and John Nicholson.

1. What are you working on while staying in Adelaide?
I am writing a book about the 1994 Rwanda genocide working with and told from the point of view of Noel Zihabamwe, who was a 9 year old refugee who lost most of his family. The challenge is to help the readers see that the main point of difference between them and Noel is that his family disappeared overnight. The challenge is also to write about a big event so that the reader can understand it and not be traumatised by it. Morris Gleitzman in Once, and John Boyne with The boy in the striped pyjamas do this. I also did it in Captain Mack which is about the Burma Railway.

2. Anonymity Jones has such tough topics in it. How was it received?
Although there was abuse, the book is really about a girl who was losing control and who was obsessed with a teacher. It is about what Anonymity does when she receives an unexpected and unreasonable response from her mother when she tells her of the abuse. Some children may decide not to eat for example, but Anonymity decides to get revenge not only on her mother's partner but on the teacher who has made foolish decisions but has done nothing really wrong. She is an adolescent who wants to be an adult, but has to accept that there is fallout because of her actions. Instead of accepting adult responsibility for her actions she runs.

3. Writing a funny story must be overwhelmingly difficult. Few authors write comedy, and even fewer achieve a funny book that kids like. Miss Understood is very funny with funny dialogue and scenes that made the reader smirk with recognition and amusement. How was this achieved (apart from blood, sweat and tears)?
Middle Grade kids find subversion and ignorance of the truth ridiculous. They recognise and understand an unreliable narrator's irony and sarcasm and with the problem child in Miss Understood, it is made clear from the voice what was true, eg. the pyjamas scene. Kids know immediately that the character is claiming one thing but is ignorant of the truth. The humour comes from the misdirection of the truth, but there is also misdirection in the story, which is not about the father and the man next door but is about depression, depression by stealth.

4. Your main character in Miss Understood is hilarious. Her perspective is cleverly written. How hard is it to get that so right?
Life is inherently ridiculous. With books that are funny, for example with a Problem Child, I write it first and then go back and reel it in to an acceptable level. I am a storyteller of character driven stories, but funny things happen in life.

5. You have written two books for the Lightning Strikes series, Queasy Rider and Spitting Image. What constraints are put on authors writing for a series such as this?
It is imperative to keep the action going, keep it funny and ridiculous but believable. There is little characterisation in the series, but it is empowering for kids to be able to read and enjoy a quick read.

6. The stories in City are edgy and often require a second read to work out what is going on. What steps do you take to make sure that you get the issues and background right? I noticed you consulted with Boori Monty Pryor about one of the short stories in City, Tipping Point.
The publisher asked about the black and white bird in Tipping Point, so I asked Boori Monty Pryor whether it was appropriate. You do have to be careful, and I check with an authoritative figure when it's necessary.

7. I loved the theme of poetry running through City. Is writing poetry one of your loves?
I liked writing the poetry in City as it's an eloquent form. In Town, the people knew each other so the connections were there, but in City, they didn't even know the people next door. I used the gender neutral thread of poetry through the stories to make the connections. I used a whiteboard marker pen on a window to make the connections in City.

8. What impact on your work does winning an award make? I note that Captain Mack and 2004 Billy Mack's War were CBCA honour books, and Town, your short stories won New South Wales Premier's Literary Award (Ethel Turner Prize), Inkys 2008, German Youth Literature Prize shortlist 2011, and City was on the CBCA Older Readers Notables 2013.
I get the feeling that making the CBCA shortlist often has more impact on a newer author's career that someone who is more established. I was largely unknown when I won Honour Book for Captain Mack and it put me on the map. But ultimately I got into writing to tell stories to kids, not to win awards.