Interview with Paul Collins by Pat Pledger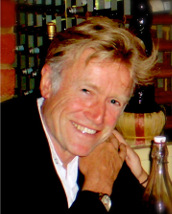 Paul Collins has written over 150 books and 140 short stories. He is best known for The Quentaris Chronicles (The Spell of Undoing is Book 1 in the new series), which he co-edits with Michael Pryor, The Jelindel Chronicles, The Earthborn Wars and The World of Grrym trilogy in collaboration with Danny Willis. Paul's latest book is The Only Game in the Galaxy, book three in The Maximus Black Files. The Beckoning is Paul's first adult novel.
He is also the publisher at Ford Street Publishing and runs a speakers' agency called Creative Net.
Paul has been short-listed for many awards and won the Aurealis, William Atheling and the inaugural Peter McNamara awards. He recently received the A Bertram Chandler Award for lifetime achievement in Australian science fiction. He has had two Notable Books in the Children's Book Council of Australia Awards.
He was a kick-boxer and has black belts in both ju jitsu and taekwondo - this experience can be seen in The Jelindel Chronicles and The Maximus Black Files.

1. I loved your action-packed series, The Maximus Black Files, and enjoyed the third in the trilogy, The Only Game in the Galaxy. What is the planning process for a trilogy like this? Did you have the three books all planned out before you wrote them?
Trilogies and such work in different ways. Sometimes it's more the publisher's decision. For example, when I put Dragonlinks, book one of The Jelindel Chronicles quartet, to Penguin, they would only commit to that book, not a series. Obviously I had to leave one or two loose threads because I knew I needed somewhere to go when writing book 2. Dragonlinks did well so Penguin agreed to publish Dragonfang, but wouldn't commit to a third book. And so it went. The Jelindel Chronicles went to book 4, Wardragon. The same went for The Earthborn Wars that TOR (US) took. The first book, The Earthborn, went well so they commissioned a sequel, The Skyborn. I then wrote a third book, The Hiveborn. With The Maximus Black Files I had a very loose outline for three books. I sent it around to dozens of publishers but no one was interested. They didn't think Maximus Black had any redeeming features. Well, he doesn't, really. But that's why the series is rather unique. And oddly enough, his total evilness hasn't deterred people from loving the series. Max is a true anti-hero.

2. The Maximus Black Files books have appeal for both boys and girls. How do you ensure that your writing will be enjoyed by both sexes?
You need a strong male and female character. Max needed a foil and someone who is every bit as good as him. Anneke Longshadow has her own demons, but she's ultimately more good than bad. She's a homage to my favourite fiction character, Modesty Blaise.

3. The beckoning, your adult horror novel, is a big departure from your science fiction series for young adults. What sort of research went into all the detail about cults and the occult?
I wrote The Beckoning about 30 years ago. I used to write my novels on a manual typewriter on the counter of various bookshops I owned. Rather than research material and possibly misinterpret text, I actually go to people who are specialists in their fields. So I went to a Victoria Police detective for the police material, a tarot/palm reader for the psychic stuff, a former cult member for authenticity, etc. I think it's a more thorough approach to research, and a damn sight quicker.

4. Why did you give The Beckoning to another publisher - Damnation Books - rather than publishing it with Ford Street, your publishing house?
Basically, Ford Street only publishes picture books through to young adult literature. The Beckoning is of course for adults. Besides, again, I had sent it to many publishers over the years. The closest it came to being published was when it was long-listed for a horror series Lothian published. But because manuscripts aren't accepted, doesn't mean they're not publishable. It reached number 7 on Amazon's psychic thriller page, just six places behind Stephen King's latest novel. It's been in the Top 100 of two Amazon lists for a while now.

5. The Beckoning is getting great reviews on Amazon and as a Kindle book. What impact has the sale of e-books had on publishing?
Obviously people who buy the ebook aren't likely to purchase the paperback. Not unless they absolutely love the book and either want it on their bookshelf or to give as a gift. And as a rule, I think remuneration to the author is basically the same between ebook and paperback. It can be because ebooks cost virtually nothing to 'publish' whereas paperbacks cost around $8000 once you factor in printing, design, cover, advance, editing, etc. I see paperback sales plummeting to such an extent it will no longer be viable to publish them other than in POD.

6. You are both an author and a publisher. What is the difference between working on your own manuscripts and looking at other people's books? What are you looking for in the books that you publish?
I never rely solely on my own judgement in publishing my own work via Ford Street. Ford Street is an imprint of a larger publisher, Hybrid. So it's Hybrid that actually takes a look at my books and decides whether they're publishable or not. And I think this is important. Authors often think their work is good, and that's a problem. We don't see our own faults. That's where a good editor can turn a so-so book into a good or great book. A small example of this is when I tried selling The Glasshouse, it featured tomatoes rather than pumpkins. An editor said, 'Tomatoes aren't 'sexy', but pumpkins are'. So it was a simple change but an important one. Many publishers rejected that book, but it sold 4000 copies to ASO, a book club, and then another 1200 copies. So it had great sales, yet publishers rejected it. I imagine there are thousands of good manuscripts lying about the place right now that would be top sellers were they given the chance. And it's these types of books that I'm looking for with Ford Street. It doesn't matter to me that MSS have been rejected by major publishers, because most of my own books have been, only to go on and be successful books. I'm publishing Andrew Plant's The Poppy in March 2014. Four publishers rejected it before he sent it to me. Two book clubs have just pre-ordered 2500 copies. I shook my head when Andrew told me he was having trouble finding a publisher for it. It's simply a brilliantly illustrated book and one that has 'success' written all over it.

7. I am impressed with your editing. How long does it take to get a book to publication?
To be fair, I don't do all the editing at Ford Street. I also employ freelancers, some of the best editors in the industry. This is very costly, but I think extremely important, as I've said. Editors can lift manuscripts to their full potential. And I think if I have any gift at all, it's in reading a manuscript and thinking, 'This could be so much better if the author did . . .' There's no set time between acceptance and publication. This can vary on how long a book takes to edit. All going well, it can take around eight months. Of course, the lead time with a small press is much shorter than that of a larger publisher. I believe some publishers have their schedules in place right up to 2015. So if an author sold a book to them now, they wouldn't see it in print till late 2015 or even 2016.

8. As an author what advice would you give to beginner writers?
The best advice can be summed up in one word: persistence. As you'll have gathered from this interview, many of my own books have been rejected time and time again, only to be successful books when finally published. It's not generally known that every major publisher in Australia, including Penguin, rejected Dragonlinks. I waited until the publisher at Penguin left and resubmitted the MS to her replacement, who promptly accepted it. Dragonlinks is my best selling book.

9. Where to now for Paul Collins?
I have a fantasy novel on submission with a publisher right now. It's called Broken Magic. It can be either published as a straight novel or over six months, chapter by chapter. I'm also putting the final touches on my six Lucy Lee books for Macmillan's Legends in their own Lunchbox series. There are six of the Lucy books. Other authors in the series are James Roy, Meredith Costain, Bill Condon, Tristan Bancks and Sherryl Clark.

10. Last but not least, what does Ford Street have in store for 2014?
I've contracted 11 books so far. These are:
The Poppy by Andrew Plant; Chasing Shadows by Corinne Fenton and Hannah Sommerville; The Cuckoo by Gary Crew and Naomi Turvey; Jamie Brown Is Not Rich by Adam Wallace; Dead Dog in the Still of the Night by Archie Fusillo; Butterfly and Oscar by Tricia Oktober; Elephants Have Wings by Susanne Gervay and Anna Pignataro; I Wish My Mother Were An Octopus by Shona Keenan and Lee Burgemeestre; Celia and Nonna by Victoria Thieberger and Kayleen West; Found You by Mardi Davis and The Monster Who Ate Australia ((reprint) by Michael Salmon. I think there might also be a sequel to Monster School by DC Green.