A cautionary tail by Erica Harrison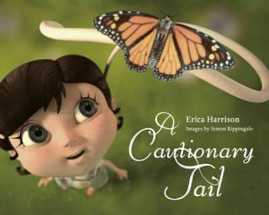 Puffin, 2013. ISBN 9780670077458.
Picture book for older readers. Written in rhyming verse by Erica Harrison and illustrated with images from the animated short film starring Cate Blanchett, David Wenham and Barry Otto, this picture books for older children has been described as a 'dark, funny fable for children and adults alike,' (from the website ). A little girl has been born with a lump on her backside, which grows into a long tail. Initially the tail was very useful. She could use it to show her moods, swing from trees and to make a tightrope for acrobats and the other children thought that it was fun. As she grew older her classmates said 'We can't hang out with freaks all day!' and 'started hooking up instead/And doing stuff behind the shed.' This made her very depressed until eventually her parents took her to the doctor who removed it. However all her moods and emotions disappeared and she was left feeling nothing. The moral of the tale is that it is difficult to choose between conformity and self-expression. You may regret the things that you discard, 'But don't get lost in grey regret.'
This is a book that is rewarding after reading it a few times and debating it with others. The theme of individuality and how difficult it is to be different as you grow older will resonate with teens. The effect of peer pressure and ridicule is beautifully portrayed and could lead to some thought provoking discussions in a literature circle or in the classroom.
The illustrations are of the animated characters from the film, set with striking colourful backgrounds in colours that reflect the mood of the young girl and with hand-made miniature sets. The image of the wide-eyed young girl is memorable and is sure to appeal to a younger audience.
In addition to the book and the film, there is also a website and an interactive book app for the iPad and iPad mini.
Pat Pledger.