Review Blog
Mar 13 2019
Ozzie goes to school by Jocelyn Crabb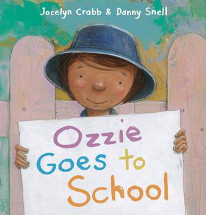 Illus. by Danny Snell. Working Title Press, 2019. ISBN: 9781921504907.
(Age: 4+) Highly recommended. Themes: Beach, Robinson Crusoe, School, Family, Humour. With a setting that will intrigue and delight, harnessing a new cohort of wannabe Robinson Crusoes, the story of Ozzie and his reluctance to leave his father on the beach each day while he goes to school to learn to read and write, will strike a chord with all children, recalling their own concerns as they tasted school for the first time. But Ozzie is used to catching fish with dad, not doing something to report at news time in the morning, so he runs back home. He and Dad catch the biggest barramundi that night before going to bed in their container on the beach, and Ozzie is able to talk about something the next day. But when his teacher begins to talk about numbers, he runs back home. Next day she gives him blocks to build a house for the barramundi, but when she talks about reading he runs back home.
Each day when something new is presented in class, Ozzie baulks and runs home, but the wise teacher comes up with a strategy that works, and instead of running home on the last day of the week, he runs to school.
Children will be drawn to Ozzie and his dad, living as they do on the beach, being wary of crocodiles, able to throw in a line to catch their meal. An idyllic lifestyle, Dad is very concerned that Ozzie should go to school to learn, and helps his son make that break from home to the wider world.
The wonderful illustrations create a scene that will make readers draw in every detail, as the envy the freedom that Ozzie and his father have, running along the beach, collecting driftwood for a fire, shutting the door on the world when they sleep. Snell uses acrylic, pencil and collage for his work, and eager eyes will pick out the pieces added to the painted surfaces. I love the vistas of the beach where they live, contrasting with the more structured environment in the school room, the touches which make it recognisably northern Australia, an the loving relationship between father and son, reinforced in the illustrations showing them doing so much together. Readers will envy the lifestyle of these two people, reflecting on the restrictions placed on those living in a city.
Fran Knight
BUY IT ON