Review Blog
Feb 21 2019
Lift-the-flap Engineering by Rose Hall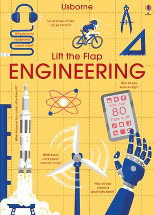 Ill. by Lee Cosgrove. Usborne, 2018. ISBN 9781474943659.
Highly recommended for your STEM collection. "Engineering is not just about engines. Engineering means designing, testing and making all kinds of useful things. To do this, engineers use mathematics, science, and - above all - their imaginations." Engineers work in teams to solve puzzles, whether the puzzle is big or small. They follow a series of steps including:

asking questions to ensure they understand the problem
imagining possible solutions by letting their brains go wild
making detailed designs of their ideas
making models to test their ideas
having the final version built and checking it carefully.
Not so long ago primary students had 'art and craft' lessons in which they usually followed a set of instructions to create a cookie-cutter model of something their teacher had decided would be appropriate for the current theme or unit of work. Then, in the 80s with the launch of the National Profiles, technology became a recognised key learning area and the strand of 'design, make and appraise' gave students more freedom to imagine solutions to set problems and actually trial their thoughts. In those days, engineering was still viewed as a subject for university level. But with the advance of computers and computing and inventions like the Internet came a realisation that university was too late to start that sort of thinking and now we have a real focus on 'STEM subjects' - science, maths, engineering and technology - and with it, a growing understanding of how integrated all the disciplines are. There are no and can not be stand-alone slots in a timetable. And now, with the rise of 'makerspaces', even our youngest children are involved in engineering on a daily basis.
While this is a 'lift-the-flap' book it is a sophisticated one like others in the Usborne collection, providing explanations and answers in an interactive format that engages the reader and offers easy-to- understand text within a myriad of diagrams. Things typically associated with engineering like aircraft, rockets and robots are explored but so are more everyday things like bicycles, solar panels and sounds.
Barbara Braxton
BUY IT ON