Review Blog
Nov 14 2018
Santa Bruce by Ryan T. Higgins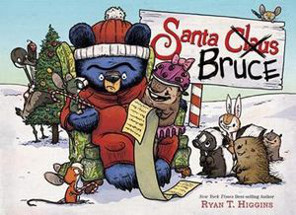 Bruce
book 4. Disney-Hyperion, 2018. ISBN 9781484782903
(Age: 7+) Recommended for its humour. Themes: Christmas, Santa Claus, Humour.
Santa Bruce
is the fourth in a series about Bruce, a very grumpy bear, who is often the victim of mistaken identity, in this case Santa Claus. Bruce does not like holidays and is not impressed when his friends the mice, drag in a huge Christmas tree. All he wants to do is stay in bed, but his friends have other ideas - they want 'to enjoy a cozy snow -filled Christmas together.' Bruce didn't like fun or cheer or the cold, so he started to wear long red underwear and a red hat leading to another mistaken identity - a woodland creature asking him if he was Santa, everyone else believing he is Santa and from then on he is enticed to finally deliver Christmas presents to all the forest animals.
The contrast between the very large and very grumpy Bruce and the very cute and very small mice and other woodland creatures makes for a very funny experience for the reader as the wonderful illustrations show the crossness of Bruce's face while the happiness of all his little friends is very vividly portrayed. I particularly liked the page showing the geese trying to pull Santa Bear on the sled, and then the following page which shows Bear having to pull the sled and carry the huge bag of presents himself. Cold wintery scenery also brings the northern Christmas season to life.
Readers familiar with other books about Bruce the Bear will love this one, while readers new to the characters will have an enjoyable and humorous read to lighten their day. Not for younger readers who might start to have questions about Santa's identity.
Pat Pledger
BUY IT ON