Review Blog
Oct 03 2018
The Chess Raven: The girl who fell by Violet Grace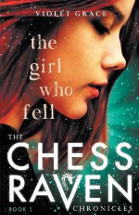 Chess Raven chronicles
, book 1. Nero, 2018. ISBN 9781760640248
(Age: Teens) Themes: Fantasy, Unicorns, Magic, Orphans. Chess is a hacker who is currently serving her community service in a museum in London instead of picking up trash on the roads. She was orphaned at a young age and has since always been in the wrong place at the wrong time. But on her 16th birthday, her life becomes a continuous whirlwind of chaos and adventure. She finds out she is the daughter of the Queen of the Fae folk and realm, and her father was a physicist from the human realm. And because of her mixed blood, she can now unlock a power within herself that can either save everyone or doom them all. Running from being controlled by other groups who wish to use her, Chess must try to control herself and her newfound powers at the same time. Will she become a hero, a villain, a weapon or a puppet? Soon after she is thrown into this new realm and reality she struggles to remember an old friend of hers named Tom, and little does she know that he is a big part of her past.
Violet Grace has written an interesting story that combines fantasy and the modern world. Our modern London and the world of the enchanted folk or fae come together to create Chess Raven's world. The fantasy elements challenge Chess and her beliefs of what is real and what is not, and she fights a never-ending case of deja vu as she struggles to remember her suppressed memories. But throughout her struggles, she learns to not only believe in herself but she also discovers love along the way.
I believe this will be an interesting series for teenagers as it covers topics that they will relate to such as first loves and discovering one's self.
Kayla Raphael
BUY IT ON